Cosmetic dentistry is used for any dental work that improves the appearance of teeth, gums and/or bite. It primarily focuses on improvement of dental aesthetics in color, position, shape, size, alignment and overall smile appearance.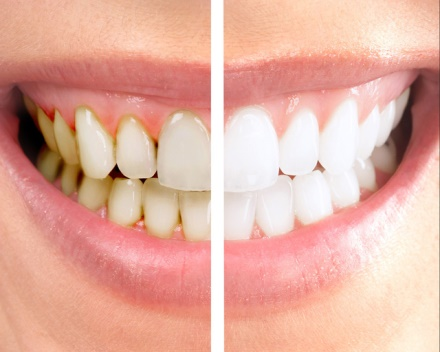 Whitening or tooth bleaching is the most common cosmetic dental procedure for lightening discolored teeth. Laser whitening is a teeth whitening technique in which gums are covered with rubber and a bleaching chemical is applied on the teeth. A beam of argon laser, which is intended to accelerate the process of bleaching, is then projected upon the teeth. This laser activates the bleaching chemical and lightens the teeth color.
---
Tooth contouring or enameloplasty removes parts of the enamel to improve the appearance of the tooth. It may be used to correct a small chip, or to alter the length, shape or position of teeth.
Bonding is a process in which an enamel-like dental composite material is applied to a tooth's surface, sculpted into shape, hardened and then polished.
Dental laminates and veneers are ultra-thin, custom-made porcelain laminates that are bonded directly to the teeth. They are an option for closing gaps, enhance the shape, or change the color of teeth that do not respond well to whitening procedures. In the majority of the cases, some level of tooth reduction is necessary for optimal results.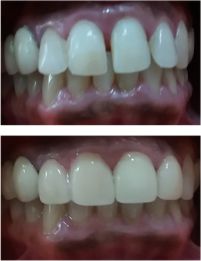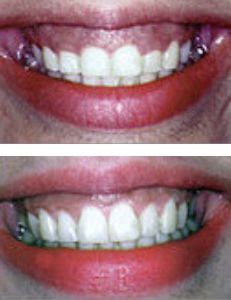 Gingival contouring is a cosmetic dental procedure that raises and sculpts the gum line. The procedure involves reshaping the tissue and/or underlying bones to create the appearance of longer or more symmetrical teeth.
Invisalign treatment is being used as an alternative to traditional metal braces. Invisalign helps in treating spacing, crowding, and overlapping teeth to create the smile patients desire.
Inlays and Onlays are used to repair decayed & cracked teeth. These are helped at those parts of teeth when a filling is too small to correct the decayed teeth and a crown would be excessive.